The Warehouse team is managed by Marius Fritz. He runs a tight ship – our warehouses are immaculate, well-ordered, safe, efficient, and effective – and it is all because of Marius and his team. LecicoSA has two adjacent warehouses that serve as both Receiving and Collections sites.  The two LecicoSA Warehouses are the nerve-centre of operations for LecicoSA.
The Warehouse Team truly live the LecicoSA Values – they are the master problem solvers and solution finders.
The LecicoSA Warehouse Team inspires us all
It's inspiring to be around team members that are excited about what they do. We greatly appreciate their energy and determination. There is nothing that our Warehouse Team can't and won't do. The words 'no' and 'cannot' are NOT in their vocabulary.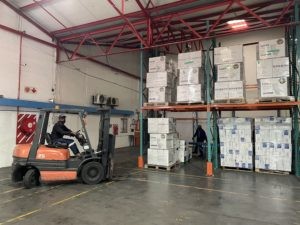 Morning Tool Box Meetings
Marius runs his tight ship by starting each day with an enthusiastic and energy uplifting Tool Box Meeting with his 18 warehouse staff members – checking in on each of them as the meeting progresses. The safety and well-being of all staff are taken very seriously. An openness for communication is key – product questions, specially assigned duties as well as important information about deliveries or dispatches are discussed and then implemented. There's synchronicity in the effectiveness of his operations – each staff member has their specialised function which ensures the smooth daily operations of this well-oiled machine. The team leader oversees the smooth running of the collective individual tasks assigned to all 18 staff members.
Accuracy and Quality Assurance
Whenever a client places an order, warehouse pickers ensure that the items listed on the invoices are correctly allocated and packaged for delivery with the assistance of journallers (otherwise known as box manufacturers) that pack orders to delivery specifications. Quality Assurance staff ensure that the level of quality of each and every item that gets dispatched maintains LecicoSA's service excellence standards.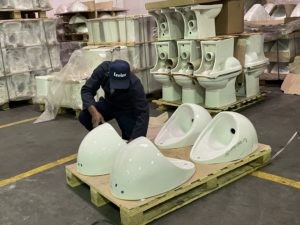 Precision and Safety
The highly skilled forklift drivers assist with the safe speedy loading/offloading of goods with the utmost precision and accuracy. Forklift drivers undergo a specialised safety and driving course which teaches them about machine safety, safe operation techniques and precision handling. Their high level of skill allows them to operate safely within small spaces at a fast pace. Warehouse sorters are responsible for ensuring that the warehouse space remains clean and tidy, ensuring that goods are easily found in their rightful place and assist with a quick inventory stock-take. Learnership students are taught the importance of compliance, health and safety protocols and are taught by the very best in their fields. They are upskilled by being exposed to every element of the daily warehouse operations under the watchful eye of Marius.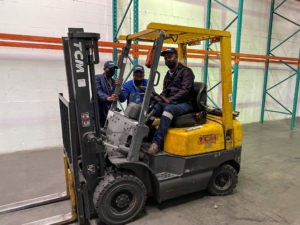 The LecicoSA Warehouse Team certainly live out the values of LecicoSA's Vision Statement:
As leaders in the African sanitaryware industry, to be a company that serves our customers and treats all our people and partners with loyalty, professionalism, care and excellence. To be an internationally recognised brand that is acknowledged for our superlative quality standards.