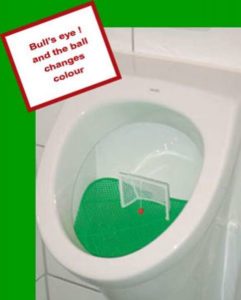 This unusual but quirky urinal trend brings a whole new understanding to the phrase 'The Beautiful Game' to describe the sport of soccer / football.
Soccer a form of football played by two teams of eleven players with a round ball which may not be handled during play except by the goalkeepers. Or is it?
You can now buy a soccer mat kit for your urinal!
The objective of the soccer urinal mat is to encourage men to aim better, and, to have fun while doing so.
How does the saying go? Boys and their toys!!!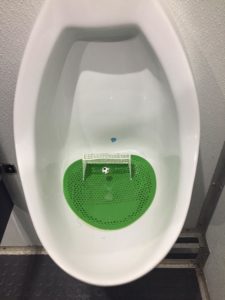 As a soccer loving-nation, this soccer urinal mat might just be a hit in South Africa!
FIFA
is the body that governs football around the world. One of their primary aims is to grow the game globally. We wonder how they might feel about these football-themed urinal mats …. (the mats certainly could make the sport more global, but perhaps not in a way that
FIFA
envisions!