Meeting our Andisiwe: she puts the FAB into FABULOUS!
My name is Andisiwe, and I am the Sales Coordinator for LecicoSA. I have just celebrated my one-year work anniversary at LecicoSA. Before that, I was an intern for one year with the company.
As the Sales Coordinator, I handle administrative duties, I am responsible for the processing of all orders, and ultimately, I am responsible for promoting customer satisfaction.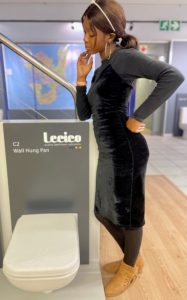 I enjoy the exposure to great networking with our clients. I have learned: "The larger your network is, the easier it will be for you to make new connections".
I am really passionate about my role here at LecicoSA. Every hour is as diverse as every day. There's absolutely nothing boring or mundane about my job!
LecicoSA provides me with immense job satisfaction. I love that I have a great deal of control and freedom within my job.
We all support each other and work together to offer creative feedback, and then we make our ideas a reality.
My passion and my professional goals are to provide EXTRAORDINARY customer service.
I really love learning about all aspects of our business.
Passionate about Water Conservation
Water is a scarce resource in our country. For me, I truly understand how valuable and precious water is. Here is a link to a LecicoSA Facebook post in which I  was interviewed about water saving by my colleague, Sonia.
I love the LecicoSA brand
I am part of LecicoSA, a brand that creates a memorable and extraordinary culture, and a brand that is dominant within the industry in terms of product quality and product variety.