Located in Tanzania – an East African country south of the Equator, Mount Kilimanjaro is the African continent's highest peak at 5,895 meters (19,340 feet). Kilimanjaro is not only Africa's tallest peak, but, it is also the world's tallest free standing mountain.
[Most high mountains are part of ranges, such as Mount Everest's Himalayan Mountain Range.]
Kilimanjaro's summit is named Uhuru Point, and it is 5,895 meters (19,341 feet) above sea level!
Kilimanjaro is actually a snow-capped volcano: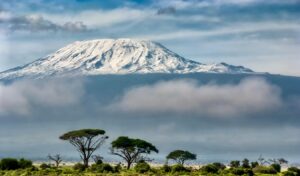 Kilimanjaro Loo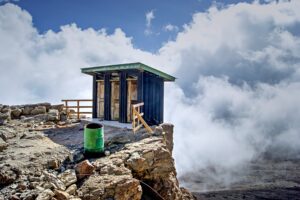 This toilet facility is only for adventurous explorers .. for people who try to make their way to the summit of Africa's highest mountain – Mount Kilimanjaro.
Hikers and explorers will find this WC facility at the Barafu Camp – situated at 4 600 meters in the air!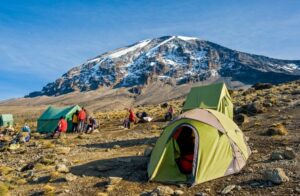 Barafu, meaning 'ice' in Swahili, is the final camp on Mt Kilimanjaro at 4600m.
It is no longer covered in permanent snow, but it is cold and rocky and exposed. The campsites are dotted among nooks and crannies in the rocks, running the length of the ridge.
If you manage to get as far as Barafu, at least you will have a loo with a serious view!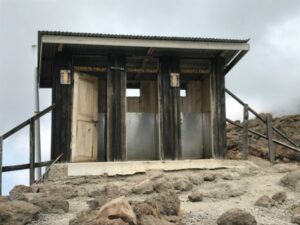 Did You Know?
Mount Kilimanjaro lies just 205 miles from the equator. When early explorers reported seeing glaciers on the top of Kilimanjaro, people did not believe them as they thought it was impossible for ice to form so close to the hot, equatorial sun. Scientists now believe that the glaciers shrink and then regrow during the planet's ice ages.
Mount Kilimanjaro was first climbed in 1889 by a German geologist Hans Meyer, an Austrian climber Ludwig Purtscheller, and a local guide Yohani Kinyala Lauwo.
On Meyer's first attempt in 1887, he made it to the base of Kibo but had to turn around there. He encountered thick snow and ice walls and did not have equipment for heavy snow and ice.
He made a second attempt in 1888 that was also unsuccessful. But it was not due to the mountain itself, but because Meyer was captured and held as a prisoner by locals as part of the Abushiri Revolt, when the Arab and Swahili population rebelled against German traders. He was freed after a ransom was paid.
Meyer finally succeeded in 1889. His support team included a guide, two local tribe leaders, nine porters, and a cook. They reached the summit on the southern rim of the crater.